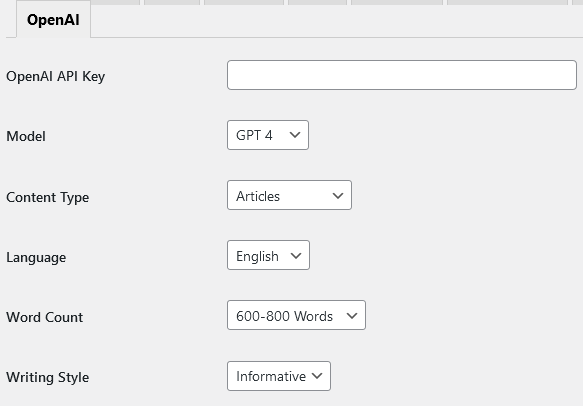 We are happy to announce the release of the new OpenAI module for WP Robot. An integration of the powerful OpenAI API into your favorite WordPress autoblogging software.
With the OpenAI module you can harness the full power of ChatGPT for your WordPress sites and automatically generate content on any topic you can imagine.
The OpenAI module will generate content for any and all keywords you enter inside your autoposting campaigns. With the settings on the Options page you can furthermore specify a preferred writing style and length of the final articles as well as the type of content you are looking for (including reviews, how to tutorials and news posts). Multiple languages are also supported.
To get started simply activate the OpenAI module on the "Options" page in your WP Robot 5 dashboard. To use the OpenAI feature you will need to sign up for and provide your own OpenAI API key. Luckily usage of the OpenAI API is extremely affordable and you get a free $5 credit after signing up for the first time. From our experience even those free five dollars can last you a long time, as generating a single 800 word article costs less than a single cent!