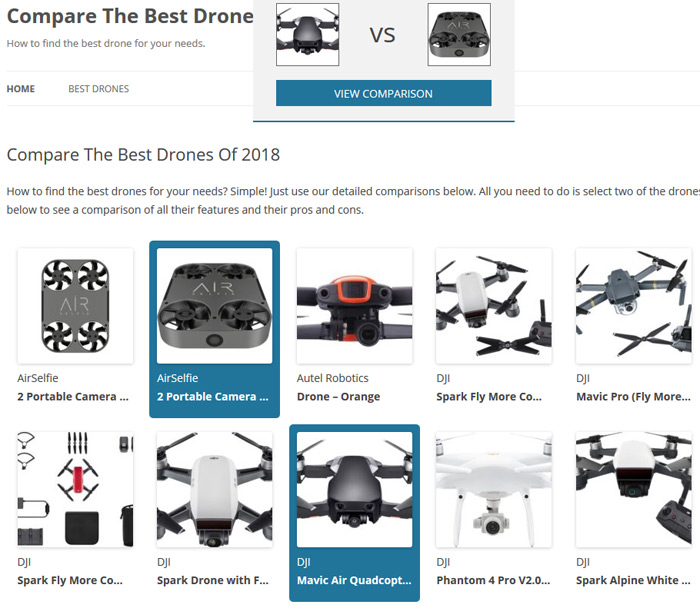 New: Our comparison page creator makes it easy to build attractive product comparison pages optimized for search engines!
Comparison Page Creator is a powerful tool for WordPress blogs that allows you to import products from Amazon or BestBuy and automatically create hundreds of feature comparison pages in the format "product x vs product y" for all of them.
The Comparison Page Creator is currently in beta phase and already included for free as part of the developer version of WP Robot 5. A standalone version of Comparison Page Creator will be launched soon.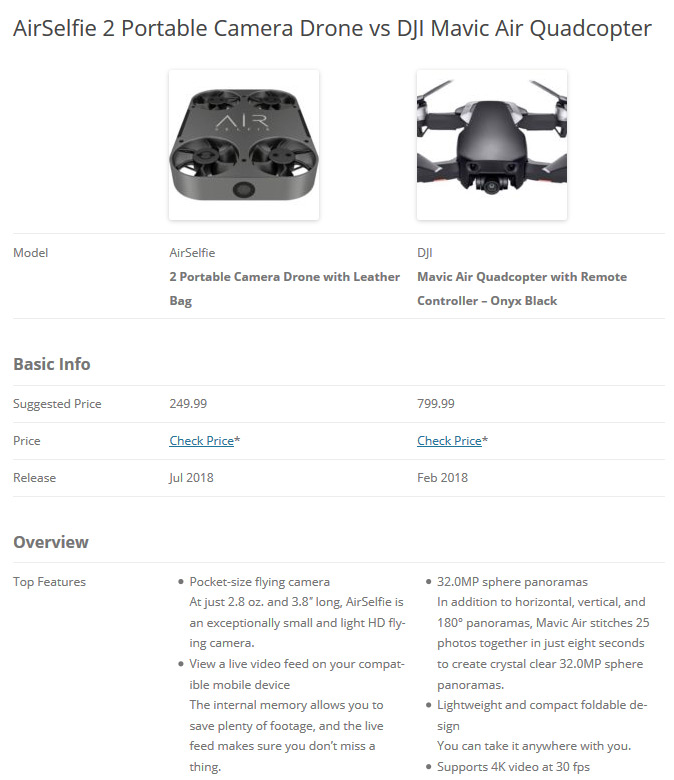 Automatic "X vs Y" Product Comparisons
Import any products from Amazon or BestBuy and create hundreds of optimized comparison pages for them all with a few clicks.
User Friendly Interface
Thanks to a simple Javascript selection interface users can easily pick two products of their choice and go directly to the relevant comparison page.
Integrated With Youtube, Walmart, Semantics3 and More
With a single click you can import additional data to add to your product comparison pages, including related Youtube videos, Walmart reviews and feature lists from Semantics3.
Search Engine Optimized
Your comparison pages are automatically optimized for popular search terms such as "product x vs y", which for specific products often have surprisingly small competition and thus are easier to rank for. Especially with a large number of comparison pages for different products!
Earn Affiliate Commissions
Of course all created pages contain affiliate links for the compared products to increase your site's income.
You can take a look at our sample site to get a better idea of how the final comparison pages can look.
To get instant access and start enhancing your own sites with optimized product comparisons order the developer version of WP Robot 5 now!
How It Works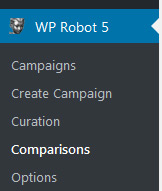 If you have access to the developer version of WP Robot 5 you can head to the new "Comparisons" page inside your WordPress admin area to start creating comparison pages within minutes.
The only requirement is that you set up the Amazon and/or Bestbuy content source in the WP Robot 5 Options page first. Please refer to the online documentation for details on this step.
Installation
To install the comparison page creator addon go to Plugins > Add New in your WordPress admin area. There click on the "Upload Plugins" button near the top of the screen. Next select the "wpr5comparisoncreator.zip" file you received as part of your WP Robot order confirmation. After the file has uploaded activate the plugin and the "Comparisons" page will appear as a new submenu in your WP Robot plugin.
1. Import Base Products
Go to the "Comparisons" page found in the main navigation of your WordPress admin area under "WP Robot 5".
Select BestBuy or Amazon as the base for importing products from.
For BestBuy enter the category ID you want to import products from. Refer to the text inside the app for details on how to find your category. Also enter a category/keyword name that is used for SEO purposes.
For Amazon enter the keyword you want to search products for. For better results we recommend entering a BrowseNode in the optional settings as well.
Finish by pressing the "Go" button.
2. Preview Imported Products
After importing products in step 1 they will get displayed in a table called the "Product Preview" section.
There you can remove any unsuitable products by selecting their checkboxes and then choosing "Delete" in the bulk actions dropdown at the top of the table. You can also choose the bulk actions to manually change the category or brand of products.
If you wish you can import additional products by repeating step 1.
3. Add More Data To Your Comparisons
Click on tab 2 titled "Add More Data" near the top of the page. Here you have the option to fetch more data from other content sources. This is recommended to make your final comparison pages be more useful to visitors as well as optimize them for search engines.
If you have used Amazon in step 1 you can use the "Fetch BestBuy.com Data" button here to add more information from BestBuy to your resulting pages here. This is recommended since Amazon does not return feature lists.
You can use the "Fetch Walmart Data" button to get ratings and review data for your products via the Walmart API. The Walmart API has to be activated on the WP Robot Options page.
You can use the "Fetch Semantics3 Data" button to import additional feature lists from Semantics3. To use this feature you need to sign up for a free Semantics3 account and enter your API details in the relevant fields next to the button.
You can use the "Fetch Youtube Videos" button to search for review videos on Youtube. The Youtube API has to be activated on the WP Robot Options page.
4. Create Your Comparison Pages
To finish and publish your comparisons go to tab 3 titled "Publish Pages".
The first "For category" setting in the tab is only needed if you have imported products for multiple categories. In this case select the category for which you want to create pages here. For performance reason only one category can be processed at a time.
The next two settings allow you to change the post status and author name of the created pages if you wish to do so.
The "Create" setting allows you to choose what pages get created by the app. By default one "vs" comparison between each 2 products in your preview section will be created as well as 1 separate reviews page for each single product.
With the "Set Comparison as Frontpage" checkbox you can choose to replace your site's current frontpage with the new comparison selection page. This can also be done manually after creation.
Once all settings are finished the actual creation happens in 2 steps for performance reasons: First click the "Save Images Now" button to store product images and thumbnails on your site. Afterwards click on the "Create Pages Now" button to create your comparison pages. Note that this can take a while, since depending on your amount of imported products a large number of pages gets created.